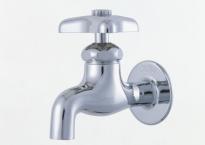 Does the tap produce toxic lead? This is not shocking. Recently, CCTV has exposed the national comparison test results of taps, saying that nearly 40% of the taps in the market have not reached the national standard, and some brand faucets do not meet the standards for lead concentration. When the news came out, it immediately attracted the attention of the general public.
The market taps the "lead-free" brand It is reported that lead can damage people's nerves, hematopoietic and reproductive systems, cause greater harm to children, affect their growth and development and intellectual development, and cause dementia in severe cases.
"The lead-free faucet is a good leader." Yesterday, in the Xiaodongmen building materials market, a certain brand of faucet made such an advertisement. The reporter visited several building materials stores and discovered that, in addition to not leaking water or rusting, all major faucet brands are now playing the "lead-free" brand. At a hardware store, the sales staff recommended to reporters a rotating kitchen faucet with a price of 179 yuan. The product uses 304 stainless steel and is completely lead-free.
Choosing faucets depends on what type of faucet the valve plug and the electroplating lead is not leaded in. How do you tell?
"The so-called 'lead-free' products on the market are actually not lead-free, but lead content is within the scope of the standard." He Jian, a well-known hardware bathroom brand agent in Hubei, told reporters that because lead-free faucets require high production technology, Most of the domestic hardware sanitary ware companies are small and medium-sized enterprises, and many do not have the production technology and conditions for completely lead-free products. Therefore, the real lead-free products have not yet gained popularity in the domestic market.
He said that due to process restrictions, the vast majority of faucets are currently cast from copper alloys with high lead content. "In addition to copper and zinc, copper alloys contain approximately 3%-5% of iron, aluminum, lead, etc. A variety of trace elements."
When selecting the faucet, he said, the valve core is the key, and the good quality products all use ceramic valve cores. It is suggested that "the faucet electroplating quality should also be carefully examined. Good electroplating is very bright, and the traces are quickly removed by hand. "
PVC Heat Transfer Vinyl, it is produced with eco-friendly PVC and PU, with soft hand feeling, high flex and matte effect. It is with 100 micron of PET film as substrate, can not be out of shape under high temperature. It is easy to cut, to weed and to peel. It also can be resticked to the film backing if you weed wrong. This is one of economic type of heat Transfer Vinyl, with better price and high quality.
Main feature:
1. Adhesive backing , it can be restick to the backing film if you weed wrong ,
2. It can be cutted by cutting plotter and laser cutting machine
3. Good washing resistance, 40-60 washing times, 30-40 mins/time
4. Valid thickness: 120-140 micron
5. Size: 50cm*25m/roll

6. The colors can be customized
7. Easy to cut, weed and peel.
PVC heat transfer vinyl, it can be widely applied for different kinds of fabric,
1.sportswear especially for soccer jersey, basket jersey ;
2.t-shirt, for cotton, poyester.
3. cap, like sports cap,peaked cap
4. bag, like school bag, hand bag etc.
5. Shoes: sports shoes, canvas etc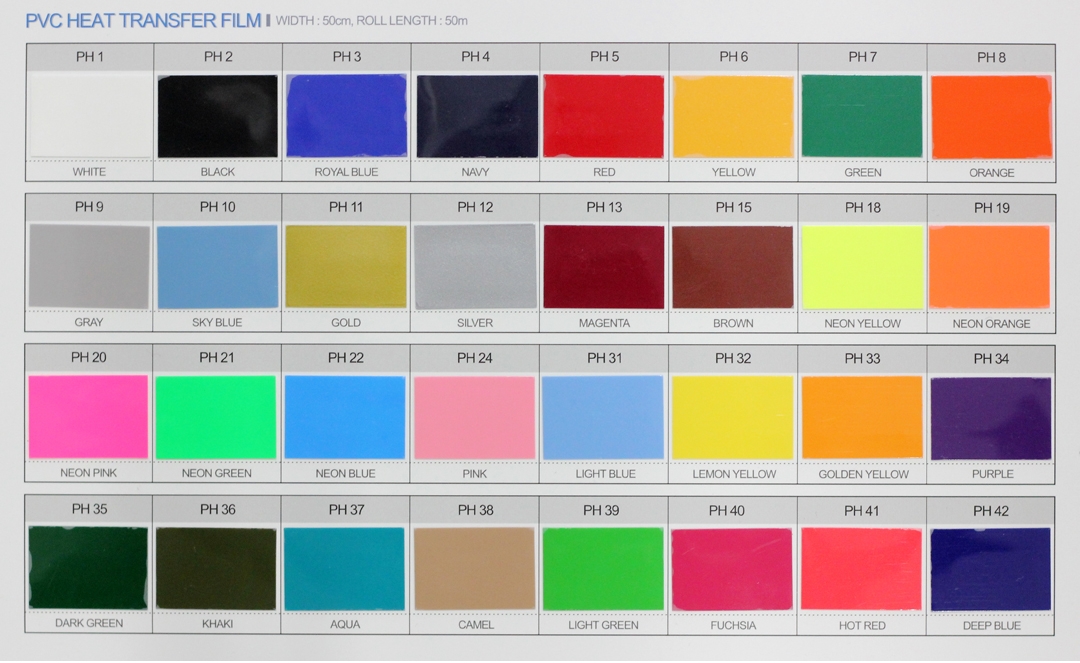 Heat Vinyl Transfer, Heat Transfer T-shirt Vinyl, Heat Transfer Vinyl Rolls Product, PVC Heat Transfer Vinyl Film
Dongguan Vasin Adhesive Products Co., LTD , http://www.vasin-vinyl.com